The Government of the SR of Vietnam and the German Government has agreed on a "Strategy for Vietnamese-German Development Cooperation in the Priority Area "Health". The GIZ project "Strengthening Provincial Health Systems", offers technical cooperation (TC) and assistance to the health care delivery system in the three provinces of Thanh Hoa, Yen Bai, Phu Yen, Nghe An and Thai Binh with the long-term objective: "Improve the provision of quality health services for the population, particularly for the poor and disadvantaged in the selected provinces". To achieve this goal, most provinces have a need to strengthen the capacity of health sector's staffs in many aspects, especially the need to strengthen management capacity and improving the quality of human resource management in parallel with clinical skills.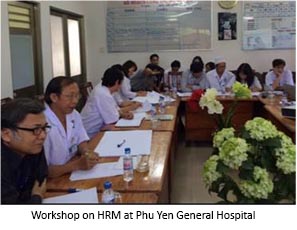 A feasible strategic human resources plan, which focuses on training needs, staff capacity development and career development together with HR Management tools such as job description, staff performance appraisal, individual development plan etc…is an essential factor for the Hospital's development.
In January and May 2014, MCG Management Consulting has signed two contracts with GIZ in project "Development of strategic human resources plan for Phu Yen General Hospital and Tay Bac Regional General Hospital in Nghe An.  Phu Yen General Hospital has been Category II hospital since 2007. The Hospital has moved to the new building with the scale of 500 beds and has target to become the Category I Hospital according to the regulation of the Ministry of Health in 2015.  While Tay Bac Hospital of Nghe An province is a Category II Hospital tasked with providing health care for residents of Thai Hoa town, Nghia Dan district and a number of adjacent districts, including Quy Hop, Quy Chau districts. The hospital has an ambitious plan to develop itself as a 300-bed hospital by 2020, with a full departmental structure of a Category II hospital.
Achievements
Alter a period of 3 months working in each hospital, MCG's Consultant has delivered the following results:
v  HR Review –Situation Analysis report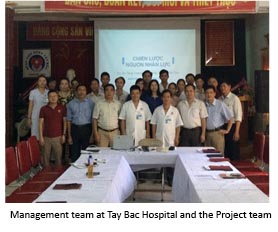 v  Human Resources Strategic Plan 2015-2020
v  Supporting tools for HR system improvement include:
1.        HR database and staff profile;
2.        Tools for Staff Online Survey;
3.        Job Description form;
4.        Performance Appraisal form
5.        Training plan in 3 years for each department in the Hospital and the overall training plan for the Hospital.
Besides, MCG also provided training with diverse HR issues for Hospital's managers such as: (i) Human resource management and human resources strategy; (ii) developing job descriptions;  (iii) Performance Appraisal System; (iv) assessing training needs and developing the training plans.
Upcoming activities
Following the success of in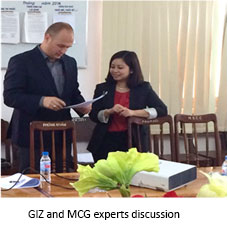 Phu Yen and Tay Bac General Hospital, in September 2014, MCG management consulting firm is selected by GIZ to continue the development of the human resources strategic plan at Nghia Lo Regional General Hospital, Yen Bai Province. MCG expects to focus on training to improve HR managem
ent capacity and support departments deploying online human resources information system (HRIS). Improving and modernizing the management of human resources is the priority of human resources strategic plan for Nghia Lo Regional General Hospital.
Social Share